Today, I thought we'd meet one of my favorite characters – Amber Grayson and test out my hard hitting interviewing skills:
Me: Amber thank you joining us today. Since we don't have much time (I have laundry to do for the next week), let's jump right in. Exactly how tall are you?
Amber: (Amber's brows furrow.) I'm 5-11. In heels, I'm normally 6-1 or 6-2.
Me: Wow! What size shoes do you wear?
Amber: (Crosses her arms and stares straight at me blinking slowly)
Me: Okay, what about clothes? You're always dressed beautifully. (Today she is wearing a soft pink flutter sleeve blouse tapered at the waist that flows over a pair of white linen flared pants. I hope my kids don't spill anything on her.)
Amber: Thank you. (She is smiling. I may have saved the interview) My clothes for work are tailored and for something like this – anywhere.
Me: Speaking of work, what do you do?
Amber: I'm the office manager for Bingham and Pratt Law Offices in Fort Worth. (She's really smiling now!) And I also oversee a smaller satellite office in Houston. As well as an educational consultant for the Bingham Art House. I think that's the my favorite. I love working with children. (She's beaming!)
Me: Sounds like you're really busy. What do you do to relax?
Amber: I enjoy playing volleyball. I'm in a league. Exercise is very important to me. My friend, Shae, and I have a movie night almost weekly. I like music and I'm getting into photography.
Me: (Obviously, she doesn't understand my question.) What do you and Kevin like to do?
Amber: (I think she's blushing. Actually, she should be. I've read the book) Um, when Kevin's in town we'll usually see a concert, have dinner, see a movie. Um, if we are on the ranch, we'll ride horses. (She's crossed her hands in her lap and trying not to smile so broadly.)
Me: (I look around excitedly.) Is Kevin here by any chance?
Amber: No. (She crosses her arms. She is blinking slowly.)
Me: (This interviewing thing is hard and I've noticed there are brownie crumbs on my lounge pants, but here's my hard hitting question.) So what do you think of your stories?
Amber: (She's blushing again!) Umm, they are very nice.
Me: (I think that is as much as she's going to say, but I'm going to try one more.) Kevin brings home a surprise in a little black bag. Where do you get something like that?
Amber: (Arms cross. Slow blink begins. No wonder no one challenges her at work. This is intimidating!) I'm sure I don't know.
Me: (Her arms are still crossed so I'd better wrap this up.) Amber, thanks again for stopping by and please, please tell Kevin I said 'Hello'.
Amber: (Sigh…of exasperation? She smiles anyway.) Well thank you for having me.
Me: (She never said she would tell him!)
For more about Amber and Kevin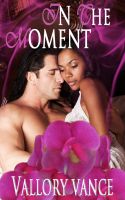 In The Moment has been revised and the 2nd Edition is available for free only on Smashwords with the coupon code SSWIN through the end of July.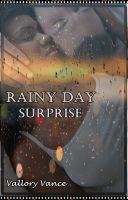 Rainy Day Surprise is a free flash fiction story available at Smashwords and Barnes and Noble. Review available on Goodreads.